We have recovered 1000s tons telecommunications harwdare,
we will buy your old network, and recycle it!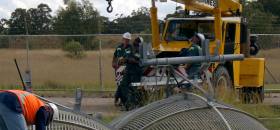 Network Decommissioning Services
Adnexus has completed numerous stand alone recovery projects for various customers across Australia.
Working with our partners, we are able to effectively cost your assest, price it's removal, analyses its value and take ownership. Effective removal is programmed in so you can free up space and costs associated with leasing costs on old hardware.
We analyse every component of the network to be recovered. Usually they consist of redundant batteries, coax cable, radio antennas, air conditioners, internal network elements, diesel generators, rectifiers, shelters, towers. Sometimes samples are taken so our lab can analyze the properties of individual components.
Pricing of asset
Planned removal
Recycling
Auditing
OHS Compliance
We have tendered on projects from removal of complete microwave links to whole networks. Telecommunications carries, energy generation companies, building etc
We have internal electricians, riggers, technicians and engineers to meet any requirement.
Adnexus purchased our old radio network across NSW. They removed and recycled over 125 tons of old harwdare freeing up valuable space on our tower and inside our switch yard communications rooms.
TransGrid
Working with Adnexus to perform your recovery of old redundant hardware will free up space in your network and save you money.
Related Services